Easter Weekend Decorations: Celebrate with DIY Style ===
Easter is right around the corner, and what better way to celebrate than by getting crafty with your own DIY decorations? Sprucing up your home with festive and creative Easter-themed crafts will not only add a touch of charm to your weekend but also create a warm and inviting atmosphere for family and friends. From adorable egg-centric ideas to stylish spring-inspired decorations, there are endless possibilities to make this Easter season unforgettable. Let's explore some fun and easy DIY projects that will bring joy and cheer to your Easter celebrations!
Get Crafty: DIY Easter Decorations to Spruce Up Your Weekend!
When it comes to Easter decorations, crafting your own is not only cost-effective but also allows you to add a personal touch to your home. One fantastic idea is to create a colorful Easter wreath using a mix of artificial flowers, ribbons, and cute little bunny or egg ornaments. You can hang it on your front door or display it as a centerpiece on your dining table. Another fun project is to make your own Easter-themed bunting flags using cardstock and string. Cut out the shapes of eggs, bunnies, or chicks, and attach them to the string to create a festive atmosphere throughout your home.
For a more whimsical approach, try making Easter-themed mason jar luminaries. Simply paint the jars in pastel colors, adhere cute bunny or chick cutouts to the front, and place a battery-operated tea light inside. These luminaries will add a soft and cozy glow to your Easter evening. Lastly, don't forget to decorate your windows with colorful paper cutouts in the shape of eggs or flowers. Simply trace the shapes onto construction paper, cut them out, and hang them up with string or tape. Your windows will instantly sparkle with the spirit of Easter!
Egg-citing Ideas: Creative Easter Crafts for a Festive Atmosphere
Eggs are the quintessential symbol of Easter, and there are countless creative ways to incorporate them into your DIY decorations. Why not start by painting and decorating real or plastic eggs with vibrant colors and intricate designs? You can experiment with different techniques such as decoupage, glitter, or even natural dyes made from fruits and vegetables. Another egg-citing idea is to create an Easter egg topiary. Take a foam cone and attach colorful plastic or wooden eggs to it using hot glue. This charming centerpiece will surely catch the eyes of your guests.
If you want to take your egg decorations to the next level, consider making Easter egg garlands. Simply poke a small hole at the top and bottom of hollowed-out eggs, blow out the insides, and thread them onto a string. Alternate the colors and sizes for a beautiful and festive garland to hang across your mantel or staircase. Lastly, for a unique twist on traditional egg decorating, try creating a mosaic egg using bits of colored paper, beads, or even small buttons. This intricate and eye-catching craft will be a true showstopper.
Hop into Spring: Stylish DIY Decorations for an Unforgettable Easter
Besides eggs, spring-inspired decorations can bring a refreshing and stylish touch to your Easter celebrations. One idea is to create a beautiful floral centerpiece using a mix of fresh flowers and greenery. Arrange them in a spring-themed vase or even repurpose a watering can for a unique twist. Another elegant option is to make a bird's nest wreath using twigs, moss, and pastel-colored ribbon. Hang it on your front door to welcome guests with a touch of natural beauty.
To add a playful touch to your Easter table, consider making DIY bunny napkin rings using cardboard tubes, colored paper, and a fluffy cotton ball for the tail. These adorable napkin rings will surely delight both children and adults alike. Lastly, don't forget to spruce up your outdoor space by creating a charming bunny or chick-themed garden stake. Paint wooden cutouts in cheerful colors, attach them to a stake, and place them among your flowers or in your garden beds for an extra touch of fun.
Celebrate Easter with DIY Creativity ===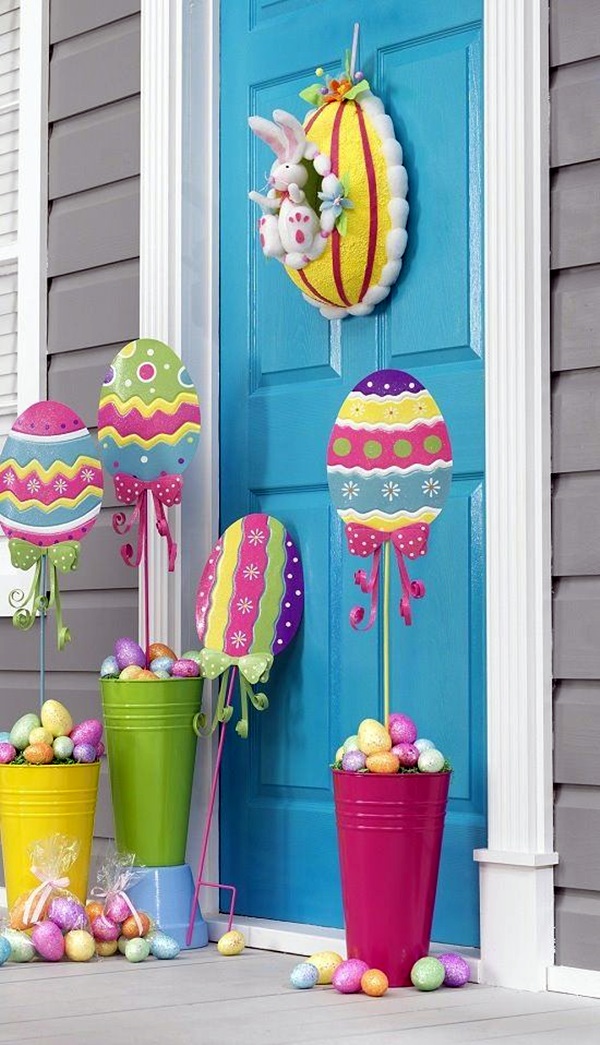 1 50 Pair Peeps Posies Greet the season by dangling a festive floral wreath on your front door This darling design is sure to steal your heart mixing delicate dogwoods with textured branches and a pair of petite love birds front and center Get the HowTo Craft a SunburstStyle Dogwood Wreath for Spring From H Camille Smith More fromLia Griffith Paper Honeycomb Easter Eggs Christmas doesn39t have to be the only holiday with a beautiful tree To make yours simply put some leaf sprigs in a vase and decorate with these DIY honeycomb Easter egg ornaments Looking for a cute way to package your favorite Easter candy Look no further than these adorable paper bunny bags1 Macramé Egg Holder mike garten To recreate these adorable macramé holders you39ll only need eggs and yarn we suggest a pastel
shade like green blue or pink Follow these instructions Cut62 Beautiful Easter Decorations For 2023 Welcome spring with these adorable Easter decorations from fun DIY crafts for the kids to gorgeous table settings and centerpieces Hop to itit39s time to decorate Welcome spring with these adorable Easter decorations from fun DIY crafts for the kids to gorgeous table settings and centerpieces61 Easter Decorating Ideas That Will Make You Crafty Yes there are bunnies carrots and lots of pastels By Caroline Picard Hadley Mendelsohn and Jessica Cherner Published Mar 8 20231 Accordion Paper Flowers Mike Garten Don39t miss the opportunity to spruce up your porch windows for Easter Boost their visual appeal with eyecatching paper flowers that rely on anBecky Stayner Forced spring bulbs such as
petitepetaled paperwhites bring spring indoors For this Easter decorating idea layer pebbles in the bottom of a lined vintage basket of any shape or size nestling in a few bulbs then topping with moss You can also try this idea with daffodil or hyacinth bulbs 11Alexandra Churchill Updated on March 7 2023 Photo Gentl and Hyers Easter Sunday is a time when family and friends gather together to observe religious traditions and these celebrations often include some of the most cherished symbols of the holiday from adorable bunnies to artful Easter eggs
This Easter weekend, unleash your inner artist and let your creativity shine by incorporating DIY decorations into your celebrations. Whether you choose to create colorful wreaths, egg-themed crafts, or spring-inspired decorations, the possibilities are endless. Embark on these fun and easy projects to add a festive atmosphere to your home and make this Easter weekend truly unforgettable. So gather your materials, get crafty, and let the Easter spirit inspire you to create a magical and joyful ambiance for all to enjoy!