Quick and Easy Weekend Valentine's Day Decor Projects ===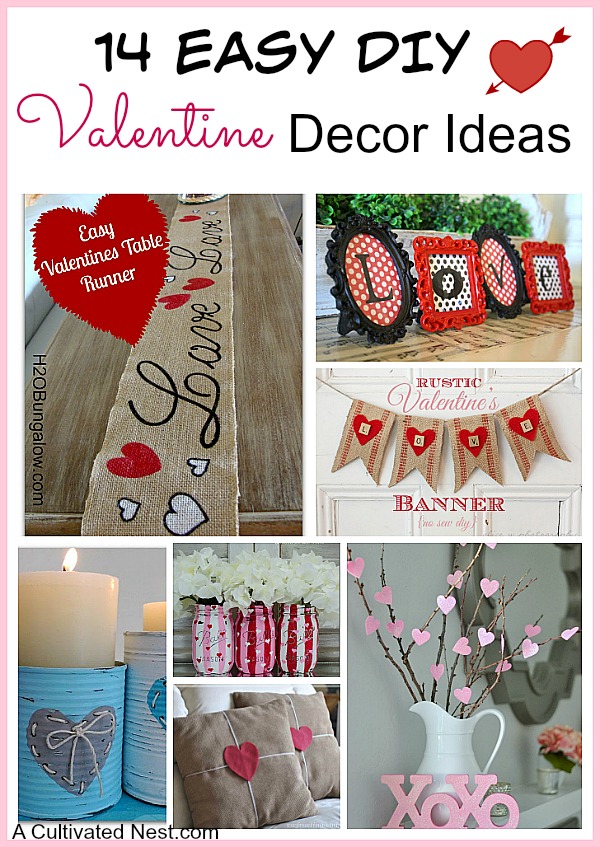 Love is in the Air: Time for Fast and Fun Valentine's Day DIY Decor!
Valentine's Day is just around the corner, and what better way to celebrate than by transforming your home into a romantic haven? With just a few simple and inexpensive DIY decor projects, you can create a stunning atmosphere that will enchant your loved one. Best of all, these projects can be completed in a single weekend, making it the perfect last-minute way to add some Valentine's Day magic to your space. So, roll up your sleeves, grab some supplies, and let's get started on these quick and easy projects!
=== Love is in the Air: Time for Fast and Fun Valentine's Day DIY Decor! ===
Heart-Shaped Wall Art: Cut out heart shapes from colorful cardstock or scrapbook paper and arrange them in a collage on a blank wall. You can use double-sided tape or adhesive putty to attach them. This festive and playful display will instantly set the mood for love.

Romantic Table Setting: Set a romantic table for two by using a red or pink tablecloth, heart-shaped placemats, and decorative napkin rings. Add a centerpiece of fresh flowers or a candle arrangement for an extra touch of elegance.

Love Note Garland: Cut out heart shapes from colored paper and write sweet love notes or quotes on each one. String them together with ribbon or twine to create a charming garland that can be hung across a fireplace mantel or along a wall.

Luminary Love: Create beautiful luminaries by placing tea lights or LED candles inside glass jars or Mason jars. Decorate the jars with lace, ribbon, or sticky hearts to add a romantic touch. These luminaries can be placed on tables, shelves, or windowsills for a soft and warm glow.
=== Enchant Your Space: Create Stunning Valentine's Day Magic in Minutes! ===
Floral Wreath: Craft a beautiful wreath using faux or dried flowers and a heart-shaped wire frame. Simply attach the flowers to the frame using hot glue or floral wire. Hang the wreath on your front door or inside your home to welcome your loved one with a burst of color and fragrance.

Love Potion Bar: Set up a small bar area with a variety of flavored syrups, mixers, and garnishes. Place a sign that says "Love Potion Bar" and invite your partner to create their own romantic concoctions. This interactive element adds a fun and playful twist to your Valentine's Day celebrations.

Valentine's Day Bunting: Create a festive bunting by cutting out heart shapes from colored felt or fabric. Attach them to a length of string or twine using glue or small clothespins. Hang the bunting across a doorway or along a wall for a charming and whimsical touch.

Heart-shaped Window Clings: Cut out heart shapes from colored cellophane or transparent contact paper. Wet the window and stick the hearts to create a lovely stained-glass effect. This simple yet effective decor idea will instantly transform any window into a romantic focal point.
=== Crafty Delights: Transform Your Home into a Romantic Haven this Weekend! ===
Love-themed Pillows: Scatter a few heart-shaped or love-themed pillows on your couch or bed. You can purchase them or easily make your own by sewing heart-shaped fabric pieces together and stuffing them with batting or pillow filling.

Romantic Wall Quotes: Decorate your walls with romantic quotes or love song lyrics using vinyl wall decals or stencils. These can be easily applied and removed without damaging the paint. Choose quotes that hold a special meaning for you and your partner.

Heart-shaped Doormat: Welcome your loved one with a heart-shaped doormat. You can purchase one or make your own by cutting out a heart-shaped piece from a plain doormat and painting it with red or pink outdoor paint.

Love-filled Mason Jars: Fill Mason jars with red and pink candies, such as M&M's or conversation hearts. Tie a ribbon around the jar and attach a small tag with a sweet message. These jars can be displayed on shelves or used as sweet gifts for your Valentine.
===
There39s even a beautiful floral tablescape that will last all month long Make any of these Valentine39s Day décor ideas alongside your main squeeze or your littlest Valentines for a craft session truly made with love Then pop on a romantic movie and enjoy your surroundings for the best and most festive February yet 65 Valentine39s Day Crafts for Adults and Kids That Double As Sweet Gifts Keep gift or sell these handmade Projects to make the holiday extra special and full of love Nothing says quotI love you Triple Foam Heart Wreath for Valentines Day Homemade Valentine Day Decorations can be easy and fun Projects you can do quickly and involve kids so you can teach them crafting Use any hearts spray paint them red or use leftover yarn to wraparound the shapes Black and white ribbon from
your stash will work perfectly and in notime you Make an Easy Knife Block This handsome knife block is fast easy fun to build and includes a 6in wide storage box for a knife sharpener To build one you only need a 34in x 8in x 4ft hardwood board and a 6in x 612in piece of 14in hardwood plywood to match Begin by cutting off a 10 inch length of the board and setting it asideYou can make pretty DIY Valentine39s Day wreaths or Valentine39s Day boxes for the kiddos to keep their cards in Crafting some of these knickknacks like the Mason jar heart vase or origami heart bouquet will be the perfect Valentine39s Day activity for the little ones Or try making the heart table runner and doilystamped napkins to create a 1779 shares If youre looking to spruce up table for Valentines Day here are 30
beautiful ideas place settings for the dining room centerpieces decor for coffee tables and console tables all the inspiration you need for a gorgeous table wherever it is in your homeGreg Scheidemann Instead of standard bookends sew sandbags from fun colorful fabric to organize your books files and folders Cut two 8x10inch pieces of fabric place right sides together and sew three sides using ½inch seam allowances Turn right side out then insert a sealable plastic bag filled with sandSweet Hoopla Valentine Keychain Craft Kit 28 at Etsy Credit Sweeet Hoopla This easy DIY is infinitely customizable Personalize it with glitter paint and of course sequins then clip it on
With these quick and easy weekend Valentine's Day decor projects, you can transform your home into a romantic haven without breaking the bank or spending hours on end. Whether it's heart-shaped wall art, love note garlands, or love-filled Mason jars, these simple touches will create stunning Valentine's Day magic in just a matter of minutes. So, get your creative juices flowing, gather your supplies, and let your imagination run wild. Your loved one will be enchanted by the romantic atmosphere you've created, and you'll both have a memorable Valentine's Day to cherish for years to come.