Weekend Home Improvement: Easy and Stylish DIY Decor Ideas ===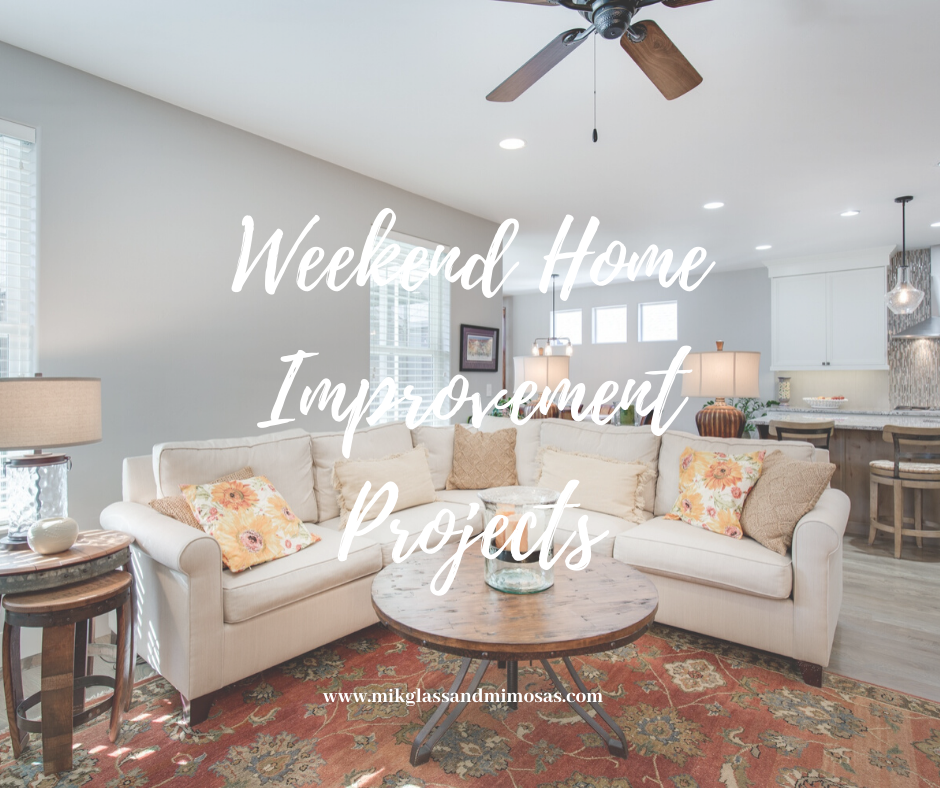 Revamping your living space doesn't have to be a daunting task that requires weeks of planning and a hefty budget. With a little creativity and some do-it-yourself (DIY) skills, you can transform your home into a stylish haven in just a weekend. Whether you're looking to add a personal touch to your interiors or give your space a complete makeover, these easy and stylish DIY decor ideas will help you achieve your desired look without breaking the bank.
Revamp Your Space: Weekend Home Improvement Ideas
Create a Gallery Wall: A gallery wall is a fantastic way to showcase your personality and add visual interest to any room. Gather your favorite photos, artwork, and even postcards, and arrange them in a unique pattern on your wall. Experiment with different frame styles and sizes to create a truly personalized display.

Update Your Lighting: Swapping out outdated light fixtures can instantly breathe new life into your space. Consider installing a statement pendant light above your dining table or a sleek wall sconce in your hallway. Remember to opt for energy-efficient bulbs to reduce both your carbon footprint and electricity bill.

Paint Your Front Door: A vibrant front door can make a huge difference in enhancing your home's curb appeal. Choose a bold color that complements your exterior and reflects your personal style. A fresh coat of paint will instantly make your home stand out in the neighborhood.

Revitalize Your Cabinets: If your kitchen or bathroom cabinets are looking tired, a fresh coat of paint can work wonders. Consider using a trendy color like sage green or navy blue to add a pop of color and modernize your space. Don't forget to sand and prime the surfaces beforehand for a flawless finish.
DIY Decor: Simple and Stylish Weekend Projects
Create a Custom Headboard: Give your bedroom a luxurious upgrade by crafting a custom headboard. From repurposing an old door to upholstering a piece of plywood with fabric, the possibilities are endless. Choose a fabric or texture that complements your bedding and adds a touch of elegance to your sleep sanctuary.

Design Your Own Wall Art: Don't underestimate the impact of DIY wall art. Get creative with canvas, paint, and stencils to create a unique masterpiece for your walls. Abstract designs, inspirational quotes, or even botanical prints can add personality and charm to any room.

Upcycle Your Furniture: Instead of splurging on new furniture, consider upcycling the pieces you already have. Sanding down an old coffee table and giving it a fresh coat of paint can breathe new life into your living room. Add some new knobs and drawer pulls to your dresser for an instant upgrade.

Craft Your Own Planters: Indoor plants not only purify the air but also add a touch of natural beauty to your space. Get your hands dirty and create your own planters out of recycled materials like mason jars, wine bottles, or even old tin cans. Arrange your plants in clusters for a stunning display that will breathe life into any corner of your home.
Elevate Your Interiors: Easy DIY Decor Tips
Install Floating Shelves: Floating shelves not only provide a practical storage solution but also create an opportunity to display your favorite decor items. Install a series of shelves in your living room or bedroom to showcase your book collection, framed photos, or decorative objects.

Add a Statement Mirror: Mirrors are not only functional but also have the power to make a room appear larger and brighter. Choose a statement mirror with an interesting shape or frame to add a focal point to your space. Hang it on an otherwise empty wall or use it to reflect natural light.

Experiment with Textiles: Introduce new textures and patterns to your space by incorporating textiles. Swap out your old throw pillows for ones with intricate designs or experiment with different fabrics like velvet or faux fur. Layering rugs can also add depth and warmth to any room.

Create a Cozy Reading Nook: Transform an underutilized corner of your home into a cozy reading nook. Place a comfortable armchair or bean bag, add some soft lighting, and stack a few books on a side table. This will create a perfect retreat where you can relax and unwind with your favorite reads.

Home Improvement Ideas Home Remodeling Remodeling on a Budget Improve Your Home in Just a Few Days with These 32 Weekend Projects Spruce up your home in just a few days By Sheryl Geerts Updated on February 14 2023 0911AM EST We independently evaluate all recommended products and services1 50 Paint the Front Door The front door is usually the first thing people see when entering your home Make a great impression with a bright welcoming front door color Not sure what hue to choose Take our quiz then follow the stepbystep instructions below for a total entry overhaul LEARN HOW How to Paint a Front Door01 of 46 Modern Wood Plant Stands A Beautiful Mess Dress up your favorite potted plant with one of these wooden plant stands This beginning woodworking project shows you just how to cut out the

pieces and assemble the stand These modern stands can be cut out in whatever size will fit your plant best Modern Wood Plant Stands from A Beautiful MessDesign Make and Celebrate Handmade 70 DIY Decor Projects to Craft This Weekend Save money and boost your home39s style in the kitchen bedroom bathroom living room kids39 room and outdoors with DIY accessories furniture and storage solutions you can tackle this weekendUpdated on June 22 2022 Photo Rett Peek These 20 improvements might not cost a lot but they39ll make a big difference in how your home operates Try one or more of these projects this weekend to make your home look and function its best 01 of 25 Replace a Window Treatment Edmund BarrPaint Your Fireplace Add no sew curtains to your living room Change out blinds Paint walls

Paint flooring we have seen some cool flooring stencil Ideas Add new artwork Hang a gallery wall46 Slides A Beautiful Mess Bless39er House Your home should be a reflection of your personality and sense of style which means filling it with colors materials and artwork that you loveFarrow amp Ball The soft black paint color in this bedroom makes it feel special and intimate in ways you39d never be able to achieve with a lighter hue this specific shade is Farrow amp Ball
With these easy and stylish DIY decor ideas, you can revamp your space and elevate your interiors in just a weekend. From creating a personalized gallery wall to upcycling your furniture, these projects will not only add a touch of style but also reflect your personal taste. Embrace your creativity and get ready to transform your home into a haven that truly reflects who you are. So, roll up your sleeves, gather your tools, and let your imagination run wild. The possibilities are endless!